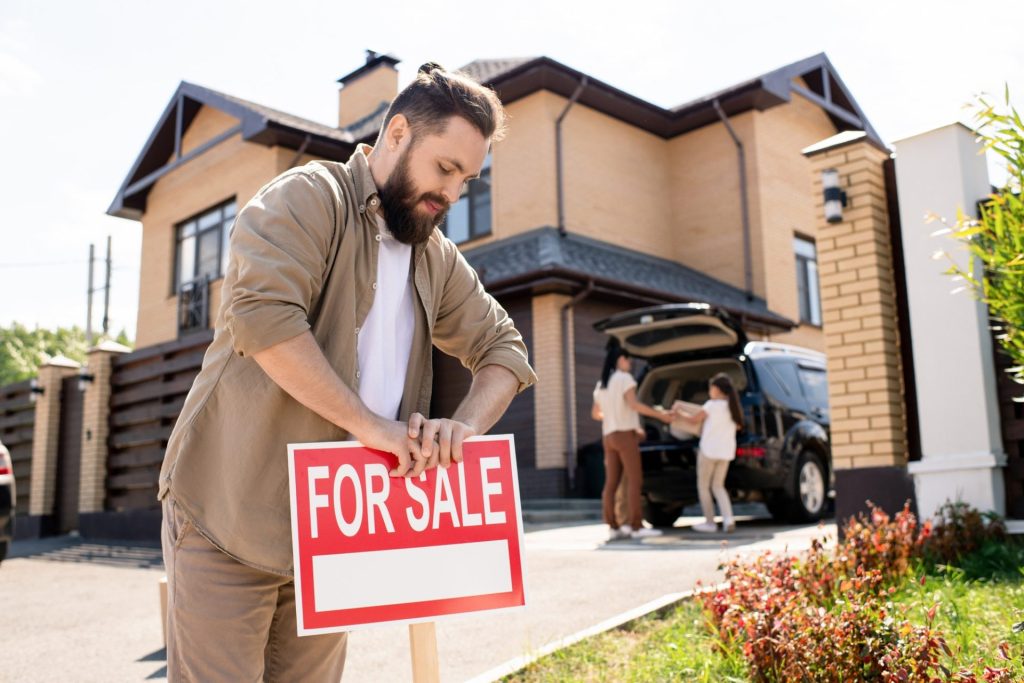 Are you getting ready to sell your house, or do you think you may be selling your house in the near future? If so, you know you have a lot of things that you have to do. Below are some tips that you can use to help you know what to do to help you with selling your home quickly and for a good price.
Getting Ready to Sell Your House Tip 1 – Maximize the Space
As we mentioned before, decluttering is one of the best things that you can do before selling your house. This can help you sell your home and can be a huge payoff. The reason for this is that people love space. Potential buyers love seeing storage and space. When you have a lot of space, you are going to have a better chance of selling the house.
It can be very overwhelming, however, if you're not sure where you should begin. So here are some tips to go along with the blog that we posted about going from room to room.
Get some moving boxes and trash bags. Then go from one room to another. Choose what is going to move along with you and what you're able to throw out or donate. Remain focused by just concentrating on a single area/room at once. When you have completed each of the rooms you can begin with your closets. Label your boxes, then tape the boxes and put them in storage.
If the house has a garage, you can put the boxes there until moving day. Even though buyers are going to want to look into your garage, boxes there won't impact it negatively.
Even if the house has a basement, it's not a good idea to store your boxes there. basements are a great selling point. You don't want them to not realize how big the basement is.
If there isn't enough room or if there are larger items that you have to store, you'll have to look for other places to store. If you're moving someplace local, you can always rent a storage unit. Another option is storage containers.
Anything that you aren't taking along can be put aside. Once you are ready, it's time to call a company that does junk removal.
Getting Ready to Sell Your House Tip 2 – Have Your Home Inspected
If you are wondering if your home should be inspected before you sell it, this is something that you should definitely do. Although it's not required when you are selling, it's a great investment when you want to sell. It will give your potential buyers some information about what is needed.
Even though a property looks great in person and online, a buyer is going to be interested in knowing if things work the way that they should and if there are any repairs needed. Having your home inspected before selling your house is going to show them everything.
How do you get ready for your inspection when you are selling? You don't. the reason for this is because you are likely going to waste your money and time. A lot of sellers spend lots of time and money making some repairs before the inspection is done. They are going to go through their house and fix everything. This isn't important.
One thing that you have to do is ensure that your inspector can access everything like the water heater, the crawl space, and other things. But why should you spend time and money on the things that your inspector might not be worried about?
If you are noticing something that is visible and needs fixing, then you probably want to fix it. But for anything else that you may or may not know about, wait for your inspection. This will save you a lot of time and money.
Getting Ready to Sell Your House Tip 3 – Make Upgrades & Repairs That Will Pay Off
The repairs that are most important for you to make as you're getting ready to sell a house are ones that will pay off. This seems very obvious but this is something that you should know because a lot of sellers will spend money and time fixing things that don't make a difference.
That being said, making any kind of repair won't hurt. However, you don't want to spend money, stress, and time on those repairs that aren't going to have any benefit. Those essential repairs that should be made before you sell can be smaller or bigger ticket items. However, how can you tell what you should do?
First, you should look at the home inspection report and read any recommendations that the realtor is giving you. Any of the big-ticket items are often on here. some of the biggest things that you may need to fix when you are selling your house are:
Air conditioning
Electrical issues
Foundation problems
Furnace
Roof leaks
Subfloor replacement
Water heater
Many smaller items are going to be on the report too. However, they might not get mentioned. These can be found on your own. Here's how you can do that.
Take a walk through the house from your potential buyer's perspective. This isn't always simple to do. However, it can make a difference. Get a piece of paper and a pen and step out the front door. Walk into the house again and make-believe that you are seeing the house for the very first time.
Go through each room walking slowly is anything sticking out visually? Does anything not work the way it should? If that's the case, those are the thing that you will want to get fixed since they're going to help you with getting a good amount for the house.
Does your floor have marks?
Does your carpeting have stains?
Are all of your doorknobs working?
Open your doors and windows and close them. Are they functioning?
Should you re-caulk your bathtubs and showers?
Check your AC's filters. If they are dirty, they should be replaced.
Once your list is completed, you want to determine if you need to replace anything.
Whatever you decide to replace it will help with selling. However, not everything's going to make you your money back. Think visually to help you with knowing what should be replaced.
Keep in mind, purchasing a house is very emotional. So those items that are going to pay off are generally those that potential buyers are going to be excited about while viewing the house.
Kitchen upgrades usually get a lot of excitement. However, they are usually really expensive.
If your kitchen could use some updating, there are things that you can do that help with making your kitchen look updated without spending a lot of money.
Update the handles or knobs on your cabinets. This can really help, and they are not expensive. Don't buy anything that is overly fancy. One that works with a lot of cabinets is satin nickel.
Should appliances be replaced before you sell? If this is a question you are asking, you should do it. Upgrade them to ones that are stainless steel. If you have some that are and others that aren't, you want to upgrade those that aren't. They are going to help with making a kitchen pop. It's not important to spend a lot of money. It's also a good idea to replace the countertops if the kitchen is updated by your counters aren't.
Getting Ready to Sell Your House Tip 4 – Enhance Your Home's Lighting
Something that may immediately turn your buyers away is when your house has bad lighting. Even a single dark room may negatively impact your sale. One of the fastest fixes for this is to check your home's light bulbs and ensure that they're giving off good light. This is something else that you should check in each room. If your lights aren't very bright, you want to replace your bulbs. You also might consider upgrading as well.
LED bulbs can make a huge difference when selling. They're very energy efficient and they can give potential buyers added incentives. You also can find them for good prices online.
Another thing that you want to do is to check the exterior and interior light fixtures. These are something else that can enhance a home's visual appeal for an affordable price. Outdated light fixtures can say to potential buyers that you may have other things in your home that are outdated.
The light fixtures that are best for selling a house will be based on your home's condition. If your home's in average or good condition, upgrading the lights to some modern fixtures is going to help the perceived value of your home. you just want to make sure it's simple. Keep in mind that you want to appeal to a lot of potential buyers. Therefore, you want to stay neutral and not go with something unusual.
You also can consider upgrading your lights to some recessed lighting. These are a huge selling feature and great interior lighting when you are selling your house.
Getting Ready to Sell Your House Tip 5 – Paint Using Neutral Colors
How crazy are your colors in your house? If you have a lot of fun colors in your rooms because you have eclectic taste, one of the things that you want to do before you sell your home. you want to keep things neutral. Beiges and greys and other colors that the buyers can easily paint over or use to match their furniture are best. Yes, you may like purple or orange or pink with purple polka dots. But chances are that the person who is buying your house isn't going to like these colors. So paint your rooms in different neutral colors to appeal to more people.
Getting Ready to Sell Your House Tip 6 Boost the Home's Curb Appeal
The first thing that people are going to see when they're pulling up to the house is the outside of your house. So you want to make sure that your curb appeal's the best that it can be. The emotion of the buyer is going to influence whether they are purchasing. So the curb appeal's where it will begin.
When they exit their vehicle, they're going to a negative or positive reaction immediately. If you're fixing up your house's curb appeal correctly, the reaction is going to be positive. However, this also doesn't mean that you will need to spend a lot.
When you are doing landscaping, you should think of colors. Having a lot of colors is essential. It will also help with making your curb appeal look its best. Below are some tips on improving your home's curb appeal.
Plant some colorful flowers and plants
Apply some mulch
Planting ground-covered plants, flower bulbs, and annuals can make a huge difference. Plants that are drought-tolerant can also make a great choice since they're loved due to being low-maintenance.
Putting mulch down can also with covering up any wasted areas and give it a look that's updated.
Getting Ready to Sell Your House Tip 7 – Do a Deep Clean
Finally, before you sell your house, you want to make sure that you do a deep clean. You are going to have people walking through the house. So you want to make sure that you are cleaning it. Here are some tips that you want to use to help with cleaning your home.
Family room/Living Room
Clean the floors
Wipe down the baseboards
Hallways
Clean the floors
Wipe down the baseboards
Kitchen
Wipe down the countertops
Wash/mop the floors
Wipe down the cabinets & drawers
Clean the fridge thoroughly – wipe down the shelves, clean drawers, etc
Clean the microwave
Clean the oven
Bathroom
Wash/mop the floors
Wipe down the countertops
Clean the mirrors
Scrub down the shower tiles and tub
Bedrooms
Clean the floors
Wipe down the baseboards
Windows
Clean outside and inside
Wipe down the windowsills
Remove the screens and clean them
Garage
Exterior
Remove the debris
Powerwash
Remove the cobwebs and anything else by your front door
These are things that you can do to help you with getting ready to sell your house. But if you don't have a lot of time to do all of this, there's another option. You can sell your house for cash to us. Contact us here to find out what we can do for you.